This is a new project I'm working on in my spear time, the great XDA Developers have extracted the so called TouchFlo2d from a HTC device and they ported it over other HTC and now even Non HTC devices so you can use the great interface on your windows mobile devices to impress people :) or for any other reason, anyway because the original interface is for QVGA devices I started to port it over to VGA devices too (as mine is VGA) and created a thread on the XDA forum for updates and fixes please go there and don't forget to thank the TouchFlo2d developers for bringing this to our devices.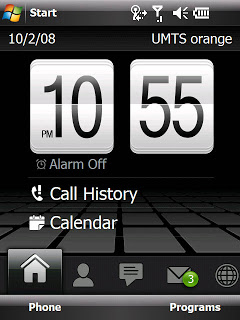 This screen shot was taken on my X7510 device as you can see almost all of the images have been redone so the quality looks good (at least I hope so) there are still some bugs that need to be fixed but till now it work pretty well.

Check out this thread time to time to keep yourself updated:
ToucFlo2d on VGA Devices

Helps is always welcome as I do this in my free time (which isn't much) so if you think you can help me with something just drop me a letter or im.